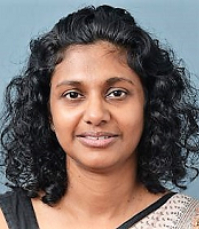 Dr. Sharmila Jayasena
President
College of Biochemists of Sri Lanka
Welcome to the College of Biochemists of Sri Lanka (CBSL), the official Sri Lankan representative of the Federation of Asian and Oceanian Biochemists and Molecular Biologists (FAOBMB)!

I consider it an immense honour to be delivering the President's message for the website of CBSL. Since the establishment in 2013, we have come a long way to gather the Biochemists and Molecular Biologists of the country under one umbrella to jointly focus on improving related academic and research goals in Biochemistry and Molecular Biology.

We are committed to working tirelessly towards the upliftment of the status of Biochemistry and Molecular Biology in Sri Lanka and we are focusing on conducting workshops to train the young scientists in cutting edge technologies. The CBSL would be a common platform for both senior and junior Biochemists and Molecular Biologists to interact and share knowledge.