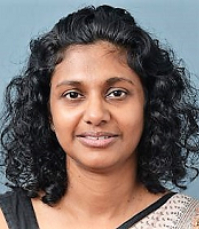 Dr. Sharmila Jayasena
President
College of Biochemists of Sri Lanka
Welcome to the College of Biochemists of Sri Lanka (CBSL), the official Sri Lankan representative of the Federation of Asian and Oceanian Biochemists and Molecular Biologists (FAOBMB).

Since the establishment of CBSL in 2013, we have worked tirelessly towards our mission of the uplifting the status of biochemistry and molecular biology in Sri Lanka. We have come a long way to gather the Biochemists and Molecular Biologists of the country under one umbrella to interact, share knowledge, and to jointly focus on improving academic and research goals in biochemistry and molecular biology.

Since our first academic conference in 2018, we have been making big strides. In 2020, we will take our academic conference to the next level! The 2nd CBSL conference will be held jointly with the 28th FAOBMB conference. I hope all our biochemists and molecular biologists will make use of this excellent opportunity to network with distinguished biochemists and molecular biologists from Asia and Oceania who will come to Sri Lanka to join this conference.