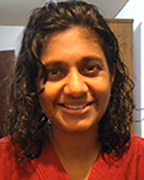 Dr. Sharmila Jayasena
President
College of Biochemists of Sri Lanka
Welcome to the College of Biochemists of Sri Lanka (CBSL), the official Sri Lankan representative of the Federation of Asian and Oceanian Biochemists and Molecular Biologists (FAOBMB).

Since the establishment of CBSL in 2013, we have worked tirelessly towards our mission of the uplifting the status of biochemistry and molecular biology in Sri Lanka. We have come a long way to gather the Biochemists and Molecular Biologists of the country under one umbrella to interact, share knowledge, and to jointly focus on improving academic and research goals in biochemistry and molecular biology.
It is said that "what doesn't bring you down makes you stronger". This is so true for CBSL! We faced many challenges during this pandemic, but we have endured, recharged and now pushing forward! I take great pleasure in inviting all Biochemists and Molecular Biologists to join us at the 3rd Conference of the College of Biochemists of Sri Lanka, to be held as a hybrid event on the 24th of July 2021 under the theme, "Natural products and microbes for health and sustainability". We have a line-up of distinguished international and local invited speakers as well as a forum for presentation of abstracts. Please see our flyer for more details. Additionally, there is also a virtual Education Symposium planned primarily to discuss BMB education in the new normal.